Smart Conservation Emails
It's amazing to me how many water utilities don't proactively communicate with their customers on a regular basis. You have customer relationships and contact information, why not use it to your advantage more frequently? Probably because your core "system of record" housing your customer information is primarily a Billing System and doesn't have a lot of options for automated customer contact. H2O Analytics has created a service which can easily complement existing systems and give you the ability to deliver timely, rules-and-analytics driven content via email, SMS, VoIP, social-media and mobile devices. Three technical capabilities enable this functionality: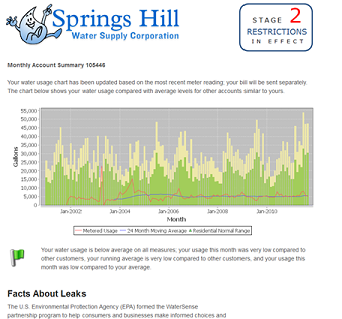 The H2O Analytic engine which processes data from multiple sources to generate a visual statistical profile and scorecard of each customer's water usage.
An open rules engine combined with a standards-based template feature allow complete flexibility of the content design/layout and put the utility in complete control of content messaging. You define business rules which drive the message of each email. These rules can examine customer attributes including usage history characteristics (generated by our statistical engine) and demographic attributes (such as property appraisal data our engine has matched with your customer location records).
A cloud-based event processing platform with pre-built interfaces to SMS gateways, VoiP capabilities, Facebook, email, etc.
Our event-processing engine evaluates the data coming from your AMR/AMI and billing systems to create a statistical profile of each customer's water usage and how it compares to other customers of the same category, geographic region, neighborhood, census-block, etc. We also generate a "water score" (more info here). These calculated characteristics and analytics are then fed through a rule-service which constructs the message content. Outbound messages can be held in queue for your review prior to release.
The rule service can easily be used to "pre load" a year or more worth of tailored conservation content. User-level usage characteristics, scores and demographic variables (from the appraisal) can be used to tailor message content automatically. The result is a powerful conservation motivator delivered automatically with little-to-no effort on the part of utility staff.