Intelligent Web Site Widgets
Today most water utilities, even the smaller ones, have a public-facing web site. The degree of sophistication varies greatly between sites ranging from simple, static pages to secure web portals which allow customers to login, update their profiles, view and pay bills. The H2O Analytics service exposes dynamic content widgets that can be embedded in your existing web site to provide your customers with advanced functionality including:
Usage History
An analytic scorecard widget can be securely linked to each customer's account, allowing you to enhance your site with graphical dashboard functionality personalized for each customer. A color-coded scoring system helps each customer understand how their water usage compares to other customers like them. And a detailed chart provides the customer with rich contextual information which studies show can encourage conservation.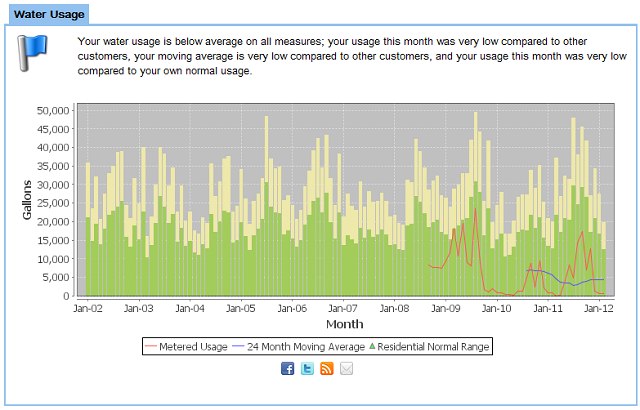 Service Area Map
A dynamic service map makes it easy for new customers to determine if you provide service and also links automatically to the H2O Analytics Field Intelligence service. Any service messages entered by utility office or field service staff show up instantly on the Service Area Map. Now your customers can see up-to-date network status information on your web site.