Weather Data Service
Historical and current weather information can help water utility managers better understand the past and predict future system demands. And it's a valuable tool for consumer education, especially conservation initiatives that help consumers compare their irrigation water use to actual need. We're proud to announce the immediate availability of a new and enhanced Weather Data Service as part of the H2O Analytics system. This service automatically updates daily data from multiple weather data stations in the service areas of our customers, pulling data from both the National Climatic Data Center (NCDC) platform operated by the National Oceanic and Atmospheric Administration (NOAA) and the Community Collaborative Rain, Hail and Snow (CoCoRaHS) Network at Colorado State University's Colorado Climate Center. Together, these two comprehensive sources provide data from more than eight thousand weather stations.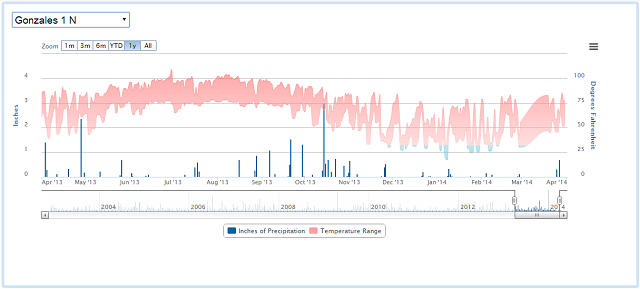 The service works by allowing multiple weather stations from the NCDC and CoCoRaHS networks to be configured within or near the service area of each H2O Analytics customer. The service automatically monitors the NCDC and CoCoRaHS platforms and collects daily data for each configured station. Daily and monthly averages are computed for each service area, and an interactive visualization components has been added to the 'Service Area' menu (see screen shot above) so that you can easily explore and visualize the information. You can also download the data into an Excel spreadsheet with the click of a button.
The weather data provided by the service is a foundation component of other system functions which will help utility management understand how weather patterns impact overall system water demand, as well as functions which help your consumers compare their water usage to actual water requirements based on evapotranspiration calculations at the household level.