Phone, Text & Email messaging that's Water-Smart and Location-Aware
Communicate effortlessly with your customers to notify them of past due amounts, pending cut-offs, possible leaks, maintenance, outages and more. Maintain positive customer relationships while streamlining the communication process; many messages and calls can be configured for auto-send. Your field staff can use our mobile app to initiate calls and messages to your customers by selecting customers on a map. Our analytic engine learns your customers 'normal' usage patterns and keeps them notified when possible leaks occur.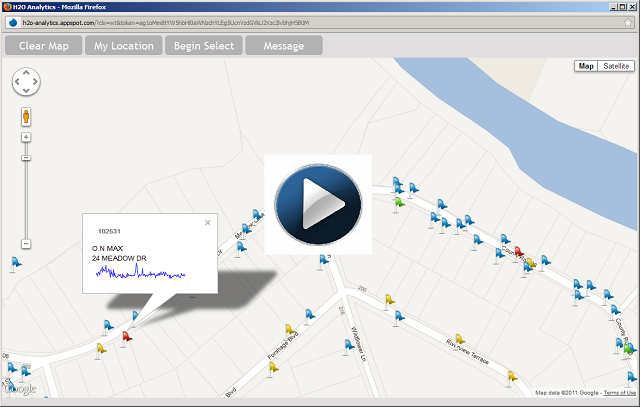 Multi-Channel Messaging
Messages can be manually initiated, scheduled or event-based. Maintain proactive contact with your customers using a range of communication mediums:
Phone - auto-dial your customers using text-to-voice or recorded messages.
Text - send short-message-service (SMS) messages to your customers who prefer mobile phones.
Email - template-based email messages based on customer usage pattern and demographic profile.
A Water-Smart Solution
Integrated with your meter data, our analytic-engine learns what normal water usage patterns look like for each of your customers. Send personalized messages to your customers based on their usage and demographic profile.
Automated monthly usage emails encourage customers to conserve water.
Leak alerts are sent automatically when usage spikes occur.
Our analytic-engine works to prevent false alarms due to normal seasonal and customer usage patterns.
Personalized conservation recommendations based on customer usage pattern and demographic profile.
Your customer demographic data augmented with county appraisal data matching.
Mobile and Location Aware
Field crews and Customer Service reps in the field can use the mobile app to see customer information and initiate messages to customers based on their location.
View customer information including usage history.
Initiate messages by selecting customers on the map.
Great for field service crews who need to notify customers in the area of a leak repair.
Easy to Implement and Cost Effective
The Customer Messaging Service from H2O Analytics is cloud-based so there is no hardware to purchase and no phone lines are required. Our event-agent installs alongside your billing system; all administration and message management is browser-based.